Kingfisher Airlines tonight declared a partial lock-out with immediate effect and suspended till Thursday flight operations which came to a grinding halt following a strike by a section of its employees.
In a statement, the Vijay Mallya-owned private carrier said it has been forced to declare a "partial lock-out" following a series of "protracted and unabated incidents of violence, criminal intimidation, assault, wrongful restraint and other illegal acts" including refraining from attending work, by a small section of "recalcitrant" employees.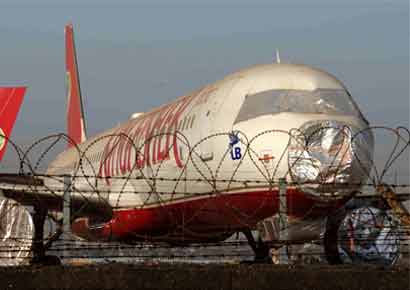 The airline said the action by the recalcitrant employees who have regrettably chosen to take law into their own hands forcing a complete paralysis of operations were all "unnecessary and unprovoked."
"It has been decided that flight operations will be suspended for the next 3 days, i.e. until October 4, 2012," it added.
The operations got completely paralysed today after pilots and some other staff joined the striking engineers protesting non-payment of salaries for the last six months, sending the shares of the airline tumbling by 5 percent.
Before commencing legal action, the airline said it will make efforts to continue to engage with striking employees to persuade them not to indulge in any intimidatory tactics.
The management earlier in the day warned of a temporary shutdown, citing lack of funds to pay salaries even for a month.